Home » Crafts, Halloween
Monday Crafts: make your own goodie bags for Halloween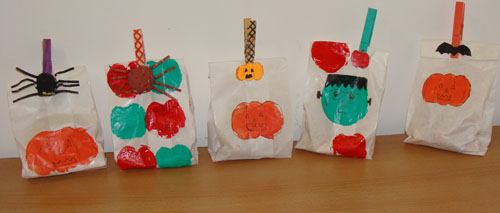 I am determined not to buy anything already made for Halloween this year so at the weekend we decorated some plain paper bags to fill with treats for our Halloween party.
Inspired by the lovely apple prints that Maggy at Red Ted Art made last week with her little boy I decided to use this technique to decorate our goodie bags with my 7 year old and found that even with an older child it is still a very messy affair.  At the first attempt we didn't have the desired effect because the surface of the apple wasn't completely flat so we only had a partial print, which was not ideal for the look we wanted to achieve.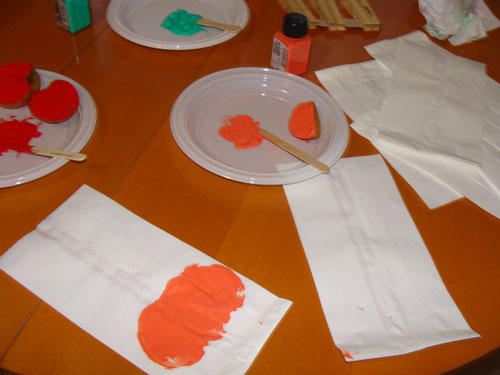 Once I cut the apples more accurately the prints were much better. We made a bag with green and red apples, which is not very Halloween but we like the colours and apples are one of the symbols of autumn so we thought it could pass. Most of the bags however have a pumpkin print on the front, which we made using a quarter of apple to print the sections of the pumpkin.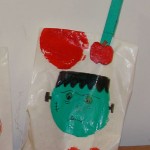 My favourite is the bag that was supposed to show three apples in one oblique line, but something went wrong with the green apple in the middle and we turned it into Frankenstein.
To seal the bags we decorated the wooden pegs we had left in our art box, which complete the look and are more functional than stickers.
To decorate the pegs we used paint, pens and card. We cut the shape of a bat, a pumpkin and an apple out of thick card and glued each one at the end of a peg. We also used some of the spiders we had made a few weeks ago to decorate more pegs just by gluing them at the end.
This post links up with Kids Get Crafty on Wednesday and the Play Academy on Friday, check out these sites for more crafts and playtime ideas.