Home » kids travel, Travel with kids, Uncategorized
Photo Friday: the Museum of Childhood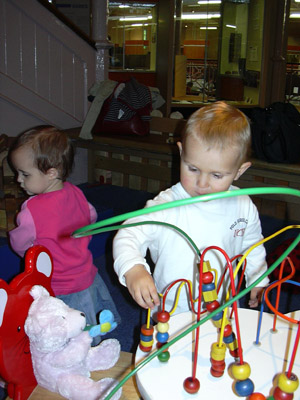 These pictures were taken during a visit to the
Museum
of
Childhood
in Bethnal Green before it was refurbished.
The
Museum
of
Childhood
is such a good place to visit over and over again, a fantastic place for tourists and even more so for local families who can enjoy an afternoon at the museum where kids are entertained by the wide range of toys and games available while you sip a coffee and meet other parents. We haven't been back after refurbishment, but I can only imagine it added to the already ample range of kids' activities. When we were there, my son was particularly taken by the manual games to develop coordination in young children, the costume and hat corner and by a wooden train carriage for simulation drive.
Thanks to Debbie at Delicious Baby for hosting and coordinating Photo Friday. Go and take a look at the other wonderful Friday photos from around the world.