Home » learn through play
Learn through play: fabric dyeing game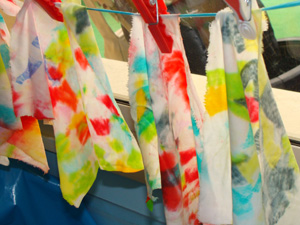 The link up over at the Play Academy this week is all about messy play so I revisited some of the activities from my son's preschool years — no that now we don't have enough messy play, but this is a very good one.  You need water, lots of shredded paper of different colours (it must be the type that bleeds), old fabric rags preferably white or light tint and two big sheets of plastic.

Place one of the two plastic sheets on the floor, get the kids to wet their piece of fabric and squeeze the excess water out. Then they carefully lay their rag on the plastic and cover it with the multi coloured shredded paper. When they are done, cover with the other sheet of plastic, turn the music on and get the children to jump, dance, run – basically have fun treading over it. After 10 minutes or so remove the plastic sheet and the now wet paper and hang the new dyed fabric to dry. I found that children are very proud of their creations and don't appreciate to mix up their work with someone else's so it is a good idea to use personalized pegs to avoid disappointment. This activity is fun and educational, my two favourite ingredients for child play. Whilst having a lot of fun, children also learn about the basics of fabric colouring.

This is a great activity for a group of children that can be done outdoors or indoors, in any case be aware it creates a lot of mess, which we don't mind!