Home » Giveaways, learn through play
Giveaway: Waxidoodles & 3D modelling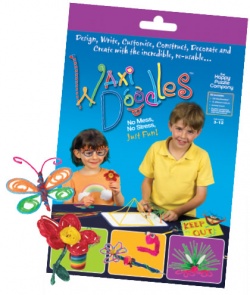 We had so much fun playing with
Waxidoodles
at the weekend. These modeling sticks coated with wax are great for young children to make animal shapes, letters and anything they wish. They are easy to handle by little hands and the colours don't blend so the same sticks can be used over and over. On top of that the special wax formula makes them stick to any surface without leaving marks providing hours of mess free entertainment. Great for young children and older kids alike, these multi coloured doodles encourage creativity, fine motor skills and 3D activities. They come with an activity booklet with suggestions and ideas to get your imagination going, but once you start and realize how easy it is to build any shapes with the doodles you will almost certainly forget the instructions and let your creativity loose. We started by making a simple candy cane and some flowers, then we moved on to animal shapes and even a bicycle.
The Happy Puzzle Company has kindly offered to send a pack of Waxidoodles to one lucky reader.
To enter the competition all you have to do is leave a message to this post.
If you like you can also follow us on Facebook and subscribe to our RSS feed to be kept up to date with the latest news and giveaways on this blog. The competition is open until Sunday December 12, results on this post on Monday 13.
Good luck.