Home » Crafts, Halloween
Paper Crafts:Halloween Collage with recycled materials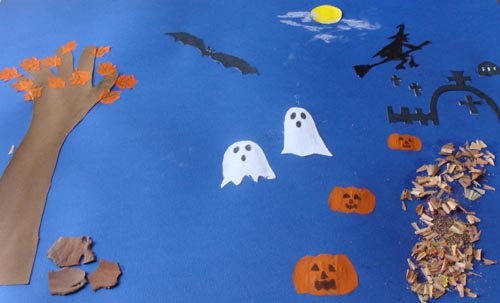 Apologies to all of you lovely readers who expect to see a post about crafts on Monday. Well, we have been a little busy at the weekend so I bring you our crafty post on Tuesday instead. Hope you will understand.

October is the month of Halloween so in true festivity mode we have been preparing for the party even though it is a little less than a month away. We got all creative over here and made our very own Halloween artwork, which is a collage of scrap paper, pencil shavings, bark and scrap fabric.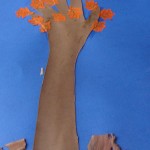 We started with an autumn tree, which we made by cutting the shape of my son's hand and arm out of brown card to form the three trunk and branches (I got the idea from Paper Crafts for Children); the leaves are made of orange tissue paper (better to use real autumn leaves but we don't have many available yet here so we had to make do!).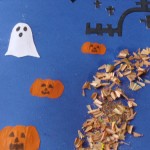 The path to the cemetery is made with pencil shavings glued onto the blue background and the pumpkins by the sides of the path are cuttings from an old paper bag. The shadow of the witch riding her broom above the cemetery is a paper cutting from a magazine that has been coloured in with a black pen and the ghosts are made of white fabric; for the ghosts' eyes and mouth we used a fabric pen.
This post links up with Kids Get Crafty on Wednesday and the Play Academy on Friday, check out these sites for more crafts and playtime ideas.