Home » Crafts, Highlights
Upcyle crafts: how to make a bin with an old pair of jeans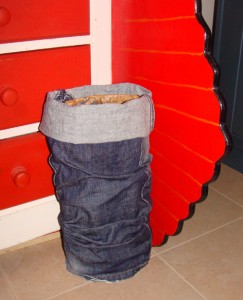 At the weekend we had a good clear out so you can just imagine the amount of potential crafts we are going to do with all those unwanted goods. We started our crafty upcycle with an old pair of jeans which we took apart for today's project for which we needed only one leg so we kept the rest for future crafts.
With our jeans leg we made a paper bin. For this project we used a jeans' leg, a piece of cardboard, brown paper, glue, water, scissors and a brush.
To start with we soaked the denim in a bowl of water mixed with vinyl glue; the water and glue mix must be very watery unlike the mix we usually make for our decoupage projects. Then we squeezed the water out and we put it to dry. Once dry the leg should be rigid enough to stand, but not so that cannot be modeled as you need to create some creases and fold the top.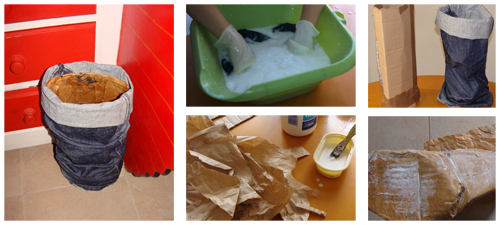 For the inside of the bin, we modeled some cardboard to fit in the space and glued a bottom to it. To make it more solid and hard we covered it with brown paper inside and out gluing layers of paper and glue mixed with water – the mix this time was the usual ¾ glue and ¼ water. We let the bin dry for a few hours and then inserted the cardboard bin inside the denim leg.