Home » Crafts
Make a card for Father's Day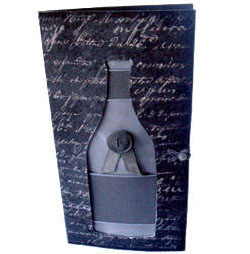 Because we like crafts, we are going to make our Father's Day card this year. I have been looking around for original ideas and as always I have found great inspiration from Kaboose crafts section. I have picked one with average difficulty level: Message in a Bottle Card. The step by step instructions come with a pattern to make it easy for children to craft. We are going to give it a go adding our own personal touch and will show the finished product after Father's Day. I have included a list of everything necessary to make this card and a link to the original post for the pattern and the step by step instructions for any of you who would like to make it.

To make the Message in the Bottle card you need coloured design paper, dark grey cardstock, light grey design paper, white translucent paper, silver ribbon of two different width, stamp of the first letter of daddy's name (or D for daddy, or F for father), sculpting clay, beads, pencil and ruler, hot glue gun, glue stick, scissors.

If you make this card or any others we would like to see them, so don't be shy and send your work in and we'll showcase them after June 21st.