Home » Fashion, Kids
Rainwear for brighter rainy days…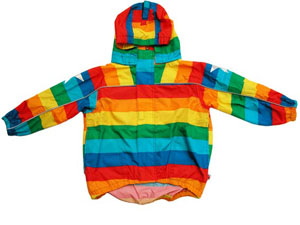 I have been looking for a funky rain jacket for my son and as usual all the cool stuff is for girls leaving me hugely disappointed. When it comes to boys the choice is limited with most things being either boring or very cute. Nowadays 6 year olds have a certain image to keep so it goes without saying that the extremely cute frog or dinosaur waterproofs are out.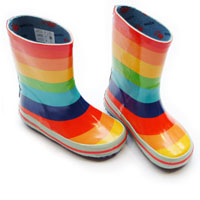 They are just no cool enough for big boys! After a lot of research I found this funky rainbow jacket by Danish label Molo, which is available as a straight forward rainmac or as an arctic jacket with a warm fleece lining of Thermolite Microfibre. Both versions of the rainbow jacket have a detachable hood. The funky matching Wellington boots complete the look for bright rainy days.
The yellow rain coat by Petit Bateau is another good option, 100% polyester in the outside with fine blue stripy lining 35% cotton and 65% polyester. Finally the blue apple print waterproof jacket by Katvig is a great option all year round with a warm fleece lining that can be conveniently zipped out; made of recycled polyester in the outside and recycled polyester fleece in the inside this jacket has a detachable hood.