Home » Crafts
How to make a cutlery tray from cardboard containers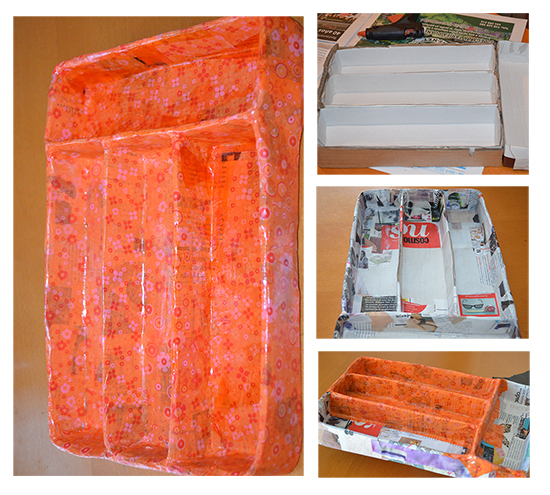 I made this cutlery tray from cardboard containers, newspaper and glue. To make this tray you need 4 long containers, hot glue gun, newspapers, vinyl glue, brushes, decorative paper, decoupage glue suitable for food containers.
1. Build the structure with the cardboard trays by securing them with a hot-glue gun.
2. Cover the structure with layers of newspaper strips, vinyl glue and water. Let dry over a few days until the frame feels solid.
3. Decorate with paper and glue for decoupage. Chose a waterproof glue, which is is suitable for kitchen items.
I quite like the effect of the newspaper coming through the decorative paper, but if you prefer a complete cover, you could paint it before applying the decorative paper or add more layers of paper.