Home » Crafts
Old furniture revamped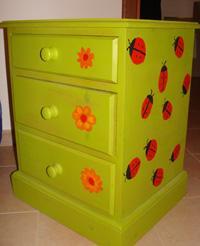 Inevitably when you move house there is a piece of furniture that doesn't fit the new home, but cannot bring yourself to get rid of it. When we moved last summer I had an old pine bedside drawer which I didn't know what to do with so I thought I would make a fun afternoon of it. Luca loves making things, so we decided to transform the cabinet with colourful paint and a few drawings.

To start with we sanded it down with sand paper to obtain a clear surface to work with, then we painted it bright green. Any type of paint is fine; I like to use non toxic because it is safer with children. We left it to dry for an hour, drying time varies according to climate, and we were in Sardinia last summer so it took less than an hour. Using a fine paintbrush we painted a small flower on each of the drawers and a large one on the top. Our favourite part was the ladybirds on the sides for which we used a potato cut in half, we dipped the flat side of the potato into red paint and used it to make random prints on both sides. With a small brush we created the black dots and the antennae.

We left it to dry overnight and then we sealed it with a varnish finish.

The end result was so nice and colourful that we decided to use it for Luca's bedroom bedside cabinet.