Home » Crafts, Halloween
Halloween crafts: Frankenstein lantern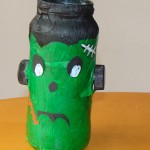 To complete our homemade set of Halloween lights this year we made a Frankenstein lantern to join the pumpkin and vampire from last year. Only this time instead of painting the jars we opted for green tissue paper. Maggy over at
Red Ted Art
made some fantastic 
Halloween lanterns
so I followed her video tutorial and put my own spin on it to make a not so scary monster.
To make this lantern you need a glass jar, green tissue paper, black crease paper (or tissue), two plastic lids, black paint, scrap black paper, glue for decoupage or vinyl mixed with water, scissors.
1. Rip the paper in small irregular shapes
2. Paint the jar with glue and start attaching the paper. Make as many layers as you wish to give a nice texture.
3. Cut a piece of black crease paper and attach it to the rim of the jar with glue. Paint a coat of glue over it to make it stronger.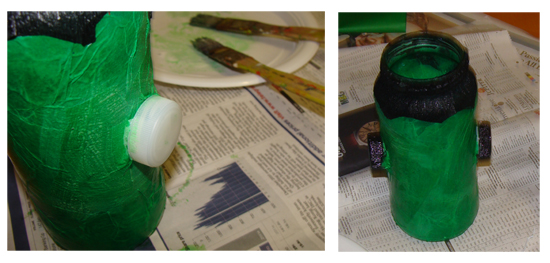 4. Attach the plastic lids on the sides to make the two bolts on Frankenstein neck. Use more tissue and glue to build the lids in the jar structure.
5. Paint the lids black or grey and cut the eyes, mouth and scars from the scrap paper and glue them on the jar to make the facial features.