Home » Crafts
Monday Crafts: how to decorate a shelf with comics' cuttings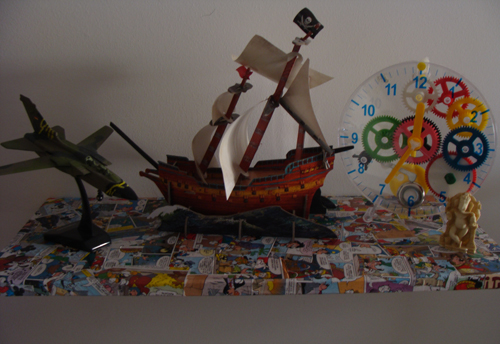 If your child is an avid comics' reader, then you are probably wondering what to do with all that precious paper piling up on the bookshelves. Well, I know one thing for sure comics or not we keep running out of room on the bookshelves so we need to add more shelves to cope with the amount of books and yes comics, which are my son's new found passion. The need of a new shelf and all that surplus of paper gave me the idea of making a fun shelf covered in comics using a very easy decoupage technique.

All you need to make this funky shelf is an ordinary unfinished piece of flat wood, lots of comics' cuttings, vinyl glue, a brush, water and non-toxic varnish.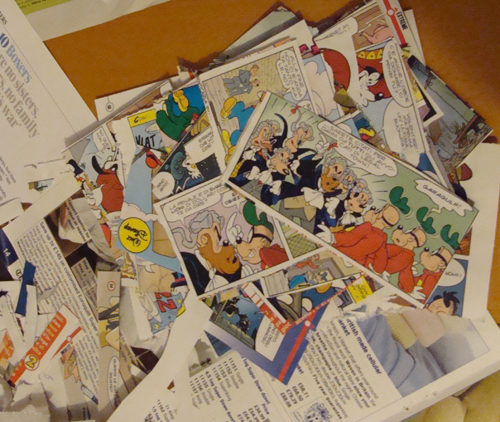 Before starting make sure the surface to cover is dry and clean. Begin at one end and slowly work your way through the whole shelf.
Mix the vinyl glue with water with a ratio of 3/4 glue and 1/4 water.
Apply the glue with a brush onto the surface, then put a piece of the ripped comics' pages on it and glue over the top. Add another piece randomly to create a collage effect and continue until the board is fully covered.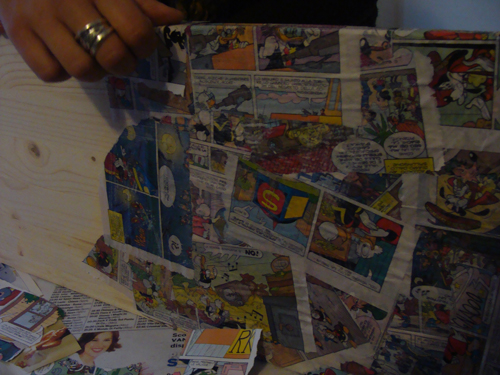 It is best to do it in stages to allow for one end to dry before working on the other side.
When the board is fully covered and dry, apply a thick coat of non-toxic varnish to seal it and put it on the wall.
For an even funkier effect you can cover the brackets in comics too.