Home » Crafts
Monday crafts: how to make a double-decker bus out of shoeboxes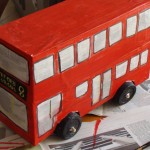 Our craft today features yet another two shoeboxes of the same size that have been turned into a double-decker bus. To make your own you need two shoeboxes – the narrow type all in one box as supposed to those with a separate lid – 4 plastic cups, two tubular ice cream sticks or similar, masking tape, adhesive tape, paint.
1. Create the shape by putting the boxes one on top of the other and connect together with strong tape.
2. Make the wheels by cutting a third of the plastic cups (top end) and make a small incision at the bottom right in the middle to insert the stick in the inside. You need to place a cup at each of the stick's extremities. Paint the cups black to look like tyres.

3. Use the sets of wheels you have just made to cut the shape out of the cardboard box where you will position the wheels.
4. Cover the boxes with masking tape to create an even surface for painting.

5. Paint the bus making as many details as you wish including windows, doors, destination and bus number.
6. Attach the wheels with strong double sided tape to the space you had made at the beginning.
Happily shared with Kids Get Crafty and Play Academy.