Home » Crafts
Monday Crafts: The touchy feely spinning season wheel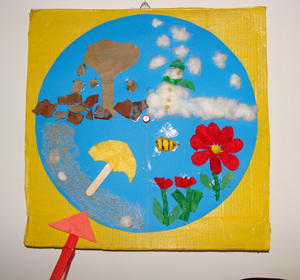 With summer on its way out it seemed like an appropriate time to make a season wheel to mark the transition from this season to the next.

To make the season wheel we cut a circle from a piece of blue card and divided into 4, one for each season.

Then we set out to decorate each corner. This is what we used: a square piece of cardboard, a pin, cotton wool, glue, little pasta rings, tissue paper of different colours, felt cuttings (red and yellow), brown paper, tree bark that we picked in the woods last autumn (the bark was already loose, we don't encourage damaging trees), sand, 1 ice cream stick, shells, a wooden peg.

Winter:  we glued tiny pieces of cotton wool to make the snow flakes and the snowman; the scarf and the hat of the snowman are made out of green tissue paper and for the buttons and the nose we used tiny pasta rings.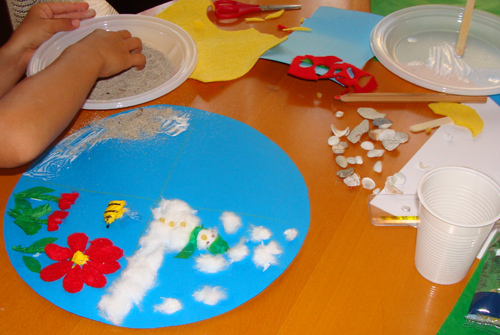 Spring: 3 large flowers and a bee. The flower stalks are rolled green tissue paper, which we also used for the leaves, and the petals are cut out of red felt. The bee is a rolled up piece of yellow tissue, which we glued on and then decorated with a black marker. For the wings we used transparent film.
Summer: A sun umbrella on the beach. To make the beach we spread vinyl glue on paper and sprinkled sand over it; after it dried we shook the remainder of sand off and continued by adding a few shells and the beach umbrella, which is made of half of an ice cream stick and yellow felt.
Autumn: we cut a tree shape out of brown paper and glued it on the wheel. To create more texture we glued pieces of bark we picked in the wood last autumn and some brown paper leaves.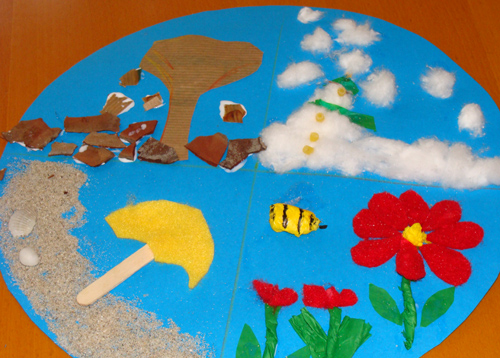 After the wheel was fully dry we pinned it to a square piece of cardboard, which we had already painted bright yellow and attached it to the wall. We made a pointed arrow out of a wooden peg to point the correct season.
This post takes part to Get Crafty weekly link up at Red Ted Art and to the Play Academy at the NurtureStore, where you'll find more inspiring crafts to do with kids.