Home » Food
Homemade Sushi rolls for dinner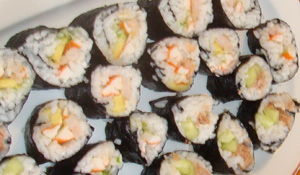 One of the things we miss the most from our previous life in London is the variety of food from all over the world so whenever we visit we don't miss the opportunity to eat Thai, Chinese and my personal favourite Indian dishes. Food in Italy is great and everything but is not multicultural. Although bits and pieces are starting to pop up on the shelves at local supermarkets like the sushi kit with all you need to make your own sushi rolls. So it was sushi dinner last night kindly offered by Dad and Luca who made the lovely sushi in the photo.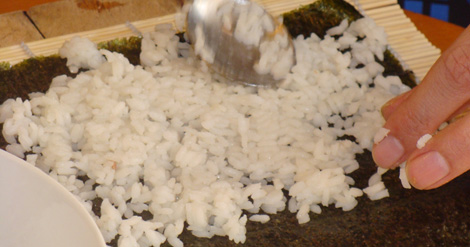 They were pretty westernized and child friendly with two different fillings.  Some had prawns, crab sticks and avocado and others had a simple tuna and cucumber filling without mayo.
Ingredients
Sushi rice 250g
4 nori sushi wraps
1 table spoon of rice wine vinegar
1 small tin of tuna, 4 or 5 Prawns, 3 crab sticks, 1 cucumber and ½ avocado
Making Sushi is very easy. Boil the rice in salty water, drain and add a tablespoon of rice wine vinegar. Let it rest until it cools down.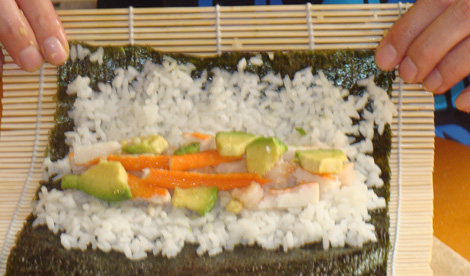 Lay the nori wrap on top of the rolling bamboo mat, add a layer of rice, then add the tuna and cucumber or the prawns, shredded crabsticks and avocado. Carefully roll it to obtain a tube and cut the slices.