Home » bilingualism, Crafts, learn through play, Reading
Learn through play: homemade board game to improve reading & writing skills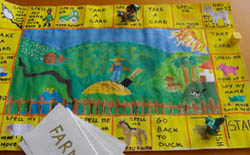 I am a huge supporter of teaching children through play. During play the mind is comfortable and open to new stimulus so it is not surprising that children learn more when they are relaxed. That's why educators use a playful method in early learning. Looking at my son's schoolwork it is evident how teaching systems have changed in the last ten years. All subjects use a range of fun techniques to optimize learning. This is true of maths, science, geography and especially reading and writing. Learning a minority language, whether it is in a bilingual family environment or simply learning a second language, follows the same criteria. Often bilingual children reject their minority language and they see it as an imposition especially if parents make too much of an issue about it. That's when learn-through-play comes in handy. Children are always inclined to playing games, which can have various formats. The market offers a huge choice from performance and board games to video games. On top of that there are a lot of free online activities in all languages.

I have been helping my son with his reading and writing skills in the minority language, which is English, using parallel learning with his Italian schoolwork. His literacy level in Italian is very high, which in a way confuses him a little with the spelling of English words because the two languages have very different phonetics so we came up with a board game.

The theme of our board game is farm animals and farm equipment. The game consists of a board, some cards and a dice. We made it from scratch by painting a farm background in the middle of the board and the game squares all around with images of animals and messages. We made up the rules and came up with a very entertaining game for two or more players, which entails a lot of spelling and heaps of fun. Homemade games are great because you can make them in any language and any topic. Not only they are fun to play, but they make a fantastic craft activity to do together with your kids.