Home » Christmas, Crafts, Holidays
Monday Crafts: Christmas branch with pine cones, felt and recycled ribbons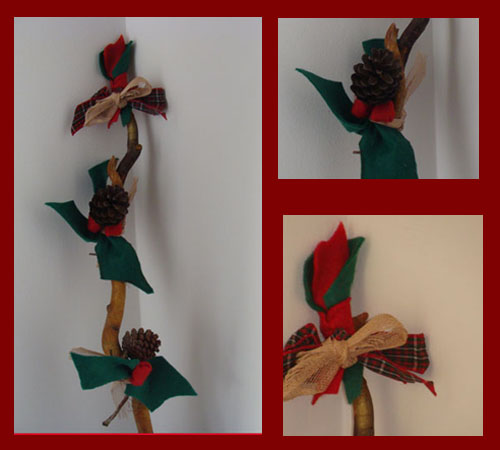 Today's craft is made completely out of recycled ribbon from presents, left over felt (from our advent calendar and Christmas stocking) and from things that we found in the pinewoods.
Our Christmas branch is perfect anywhere in the house; horizontal on the mantelpiece, or on the front door or simply in a long vase in the lounge just like we have it.
To make it all you need is a branch with some shape to it – we found a perfect one with a few curves – 3 empty pine cones, ribbon, red and green felt. First we sealed the branch and the pine cones with varnish and we left them to dry. In the meanwhile we cut the mistletoe leaves out of the green felt and made little red balls out of the red felt.  Then we stitched the red felt bundles onto the green leaves. The stitching involved is limited to securing the red fruit on the leaves and to creating a crease in the centre of the leaves.  We secured the pine cones onto the branch with garden wire and used some natural straw ribbon to tie the mistletoe next to the pine cones and around the branch. To add a few finishing touches we made an abstract flower just by tying two bits of green and red felt together and we attached it to the branch's top extremity with a mixture of tartan ribbon and straw.