Home » Crafts, Highlights
How to turn a cereal box into a wolf desk organiser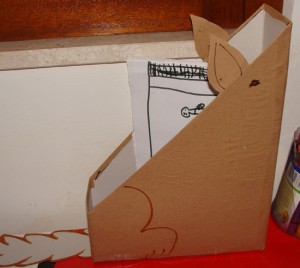 Creative storage solutions, crafting and recycling are amongst my favourite topics so I often bring them together to express our creativity. The sweet looking animal in the picture is our recent desk organizer, which we made with a cereal box, a brown paper bag and glue.
Cereal boxes make great desk organizers and you can let your imagination loose to decorate the canvas in so many ways. Today we made a wolf desk organizer; we borrowed the idea from the San Diego Zoo crafts page and followed it step by step.
All you need for this craft is an empty cereal box, a brown paper shopper, glue, a pair of scissors and a black marker.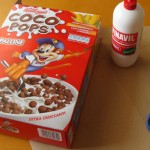 1. Cut the box in a trapeze shape (or triangular if you like to keep the back open)
2. Trace the sides of the box on the brown paper, cut and stick with glue
3. Cut the shape of a tail and two ears out of brown paper and mark the edges with a brown or black marker; glue the ears and the tail to the box
4. Draw the eyes and the legs with a marker
Happily shared with Kids Get Crafty.