Home » Christmas, Highlights, Holidays
Modern & eco friendly Christmas trees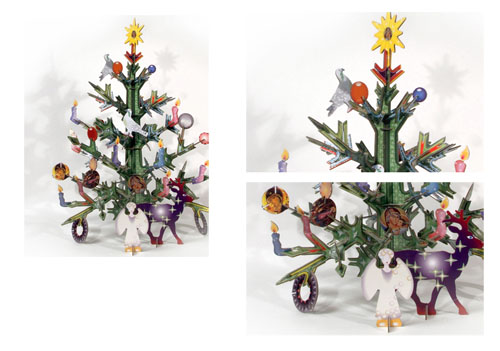 The best part of Christmas celebrations  is the build up to it and particularly the effort that goes into decorating your home and the Christmas tree. With that in mind I have had a good look around for the ecofriendly alternative to the real tree and this is what I found.
At the top of my list is the Christmas tree totem by Kidsonroof. The result is appealing to the eye and the whole family will have fun assembling it.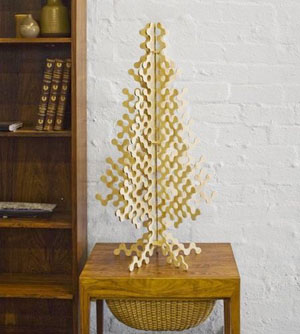 Buro North's plywood Christmas tree is very modern and stylish and would look great in any modern home, but it doesn't strike me as the most appealing to kids. All in this is a nice sculpture with a Christmas feel, which goes well above your average Christmas tree budget.
The Cardboard Christmas Tree is made of 100% recycled cardboard and is probably the greener option here.  It comes flat packed so kids will have fun assembling it and then painting it. I am a fan of cardboard products, but somehow I am not sure I would replace our Christmas tree with this option just yet, but I would gladly add it to our Christmas decorations. At $19.99 this tree makes a perfect Christmas craft project.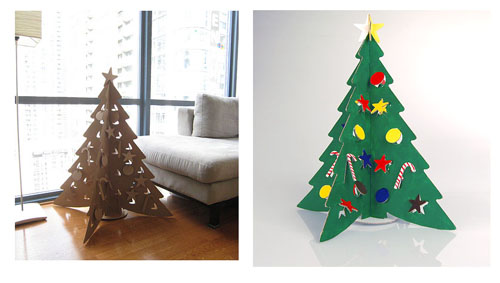 Finally the Christmas tree stickers by mooo (first seen on Deco Peques) are a clever idea to decorate the walls over Christmas. You may choose them as a replacement of your Christmas tree or use them as an addition or even a background scene.