Home » Christmas, Highlights, Holidays
A thrifty Christmas gift that will last all year round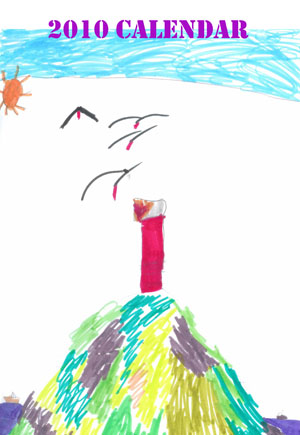 Our house is covered with drawings.  The first point of display of a new drawing is always the fridge; thankfully we have a large two-door fridge, but even so the space ran out a  long time ago and ever so often the old ones must make their way to a less prominent spot. The less striking pieces, according to the little artist himself, don't make it to the fridge at all and go directly on his bedroom walls. I am very sentimental about my son's drawings so I have kept them from the very first abstract scribbles to the more recent ones. We have recently been going through them all trying to put some order and I asked Luca to choose what to keep. It turns out that he is rather attached to his master pieces too so we ended up keeping most of them. It suddenly hit me, why not using the best of them to create calendars to give to the grandparents for Christmas? Who else would appreciate the little one's drawings if not the proud grandparents?

Making your own calendar is very easy.  I downloaded a calendar template from one of the many available to download free online. I scanned the drawings and placed the image files on each month. Well I have actually done three months and the cover page so far, but I am very pleased with the way it's coming along. I know the grandparents will be thrilled and my son will be tremendously proud to have his drawings printed on glossy paper.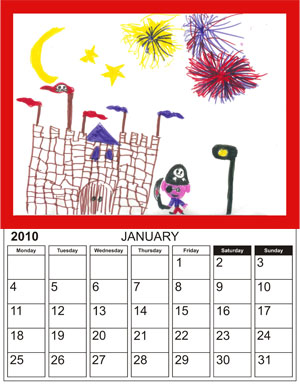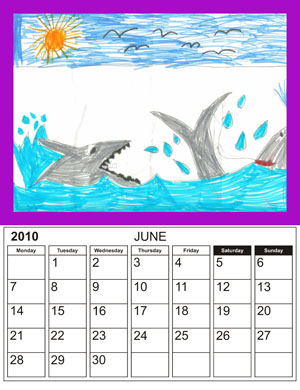 Once I have the whole calendar ready I will create a high resolution PDF and have it printed at one of the local digital print shop.
There is an easier way to do it, by using an online print service that lets you load your photos (in this case drawings) onto one of their many templates  and then they deliver the printed version, but I am having a lot of fun doing everything myself .
More ideas for Thrifty Crhistmas gifts over at Violet Posy.