Home » Crafts
Dinosaur craft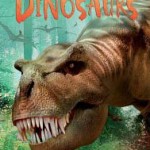 If your children are fascinated with dinosaurs as much as mine is then you may want to take a look at this fabulous little book we picked up at The Natural History Museum's shop when we last visited.
Dinosaurs by Stephanie Turnbull
is a great little book about dinosaurs with simple facts suitable for kids who can read alone and are keen to learn truthful information about their favourite dinos.
Inspired by our last visit and the book, we made a plant eater with a large paper plate, paint, glue and paper clips.
1. Paint the plate a colour of your choice.
2. Draw the sections on the back of the paper plate like in the image: body, legs, tail, neck and head. Cut the sections.
3. Attach the dinosaur's body parts with glue (staples also work well)
4. Open the paper clips in an L shape and attach one side to the back of each leg to make the dinosaur stand up.