Home » Crafts, Easter
Monday Crafts: Easter bunny card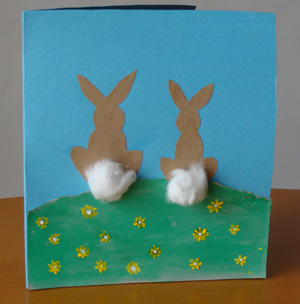 Yesterday we made our first Easter card. I got the inspiration from allaboutyou, which is a great source for simple kids' crafts.

All you need to make the card is blue card or thick paper, green paper, an old paper bag, cotton wool, glue, colouring pens or paints and brushes.

I like the kind of craft where you just use what you have in the house and we were very frugal about it as we used only left over paper to make it.

Instructions

1. Cut a piece of blue card and fold it down the middle to make the shape of the card.

2. Tear a piece of green paper to make the grass and glue it to the front of the blue card. Ripping the paper rather than cutting it helps to obtain the rough edges of the grass.

3. Draw little flowers on the grass with colouring pens or paint and brush. We used acrylic paint and a fine pointed brush because the pens we had in the house were not suitable and the colours were getting all mixed up.

4. Draw the outline of two bunnies sitting down and cut around it. For this step use any brown paper you have in the house, an old paper bag is just the kind of thing that works well.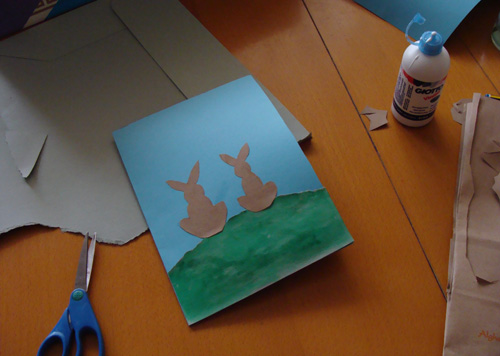 5. Stick the two bunnies on the card with glue as they were sitting on the grass.
6. Make two tiny balls of cotton wall and glue them to the bunnies to make the tail.