Home » Crafts
Christmas crafts: hanging snowman made of newspaper pages and cotton wool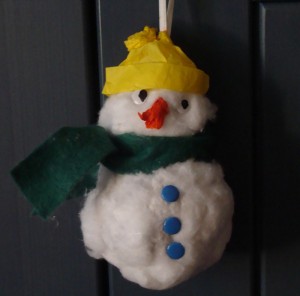 We have been very busy at the weekend working on ideas for our Christmas crafts and setting a few of them in motion. We will make our own nativity using a variety of materials, from air dry clay to recycled objects we find around the house. Our first Christmas craft this year however is not part of the nativity but a cute snowman to hang on the tree or anywhere in the house, which we made using old newspapers, paper tape, glue, cotton wall, flat head pins and scrap materials for the final decorations.
Step 1- Make two balls different in size out of old newspapers or magazines and wrap them with paper tape to hold a round shape. Attach a string on the top of the smaller of the two balls to hang the snowman.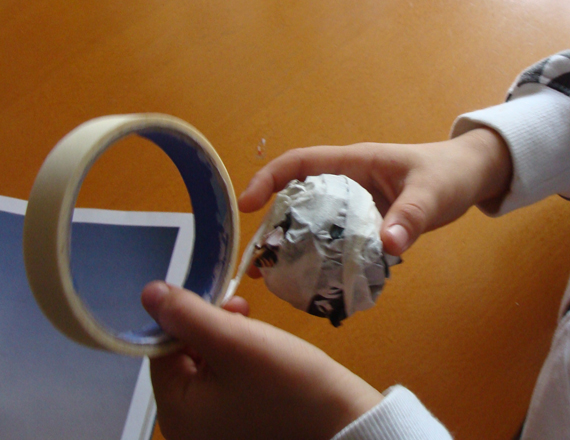 Step 2- Join the two balls together using a toothpick and glue.
Step 3- Cover the whole surface with cotton wool using glue.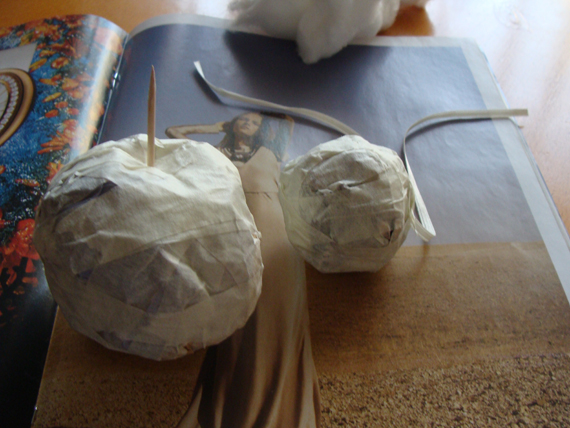 Step 4- Insert three flat head drawing pins on the bottom part of the snowman to make the buttons (alternatively you can use real buttons; this is probably a better solution if you are making this craft with really young children).
Step 5- Decorate the face: the eyes are two white drawing pins with black marker dots in the middle, the nose is a piece of orange tissue paper, the hat is made of tissue paper and the scarf is a piece of green felt. Decorations are flexible and should be done with scrap paper or fabrics you find around the house to remain true to the reuse before recycle philosophy.
This post links up with Kids Get Crafty on Wednesday and the Play Academy on Friday, check out these sites for more crafts and playtime ideas.