Home » Crafts, Highlights
Monday crafts: Yogurt pots puppet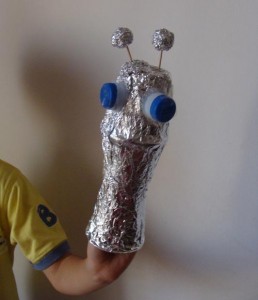 Today's craft is something we made back in the summer, we have a few crafts up our sleeve for times like this when we are unable to craft at the weekend due to other commitments. Yesterday we were out all day at a junior tennis tournament and when we got back we were far too tired to get creative. If you have ever been to a junior sporting events you'll know it is fun for the kids and very tiring for the parents. With tennis you are usually left to wait around for quite some time before your child is called to play, you carry the bags and try to catch a happy snapshot while dealing with other parents who would very happily jump on court and play the strokes for their kids if they could!
Our craft is an alien puppet made with yogurt pots and foil. To make the alien you need three empty yogurt pots, foil, tape, two toothpicks, 2 white bottle caps and 2 blue (or other colour) bottle caps.
1. Stack the yogurt pots with two facing one another in their hollow part and the third with the hollow part facing down leaving it free for inserting your hand. Secure with tape.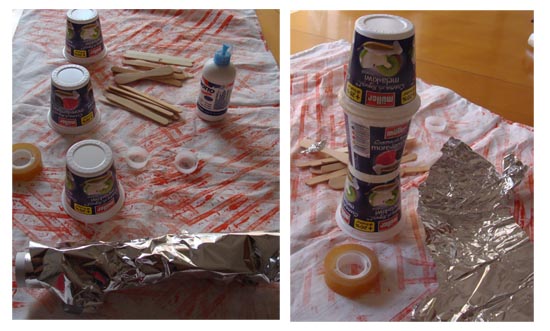 2. Cover with foil and make the antennae inserting the toothpicks with little foil balls at the extremities.
3. Use the plastic caps to make the eyes by placing the smaller and colored caps inside the white ones and stick them on the alien face with tape.
Happily shared with Kids Get Crafty and Play Academy.