Home » Crafts, Highlights
Upcycle crafts: how to make a pretty vase with a plain glass jar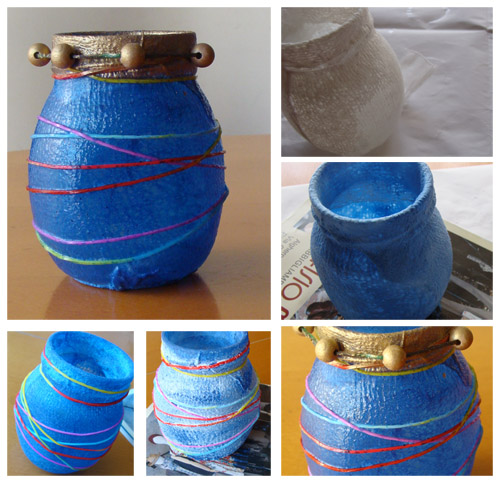 Today's project is a blue vase that we made with a glass jar, a piece of cotton gauze, vinyl glue, paint and colourful elastic bands. The process is very easy.
Coat the vase with vinyl glue mixed with water (1 quarter water and 3 quarters glue)
Attach the gauze and apply more glue water mix on top using a brush. Gauze is a very stretchy material so you will be able to arrange it on the jar's surface easily.
Add a drop of blue paint to the glue and paint more glue (which is now blue) on the gauze. Leave to dry.
Arrange some elastic bands around the jar. When you have the pattern you like, paint more glue over the whole jar to make the elastic band solid. This will stop them from moving out of position. Leave to dry.
Paint the rim of the jar gold. Feed some wooden beads through an elastic band and paint them gold.
Apply a water based varnish all over the vase to make it waterproof. Leave to dry.
Tie the elastic band with the golden beads around the rim of the jar.