Home » Christmas, Crafts
Magazine pages Christmas tree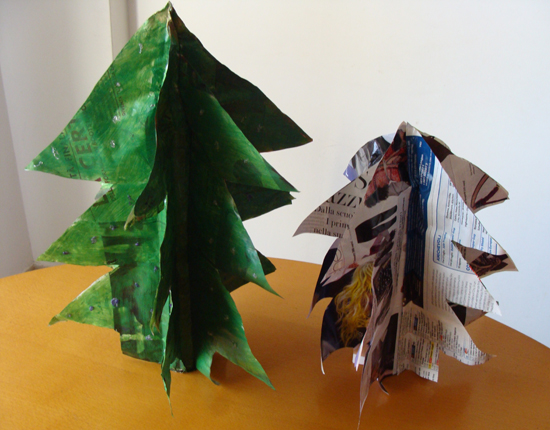 Crafting with junk is one of my favourite ways to get creative and when it comes to recycling I am partial to magazine pages. In the past we made coasters, table mats and napkin rings. Today to get the Christmas crafting season going I bring you two small ecofriendly Christmas decorations in the shape of Christmas trees.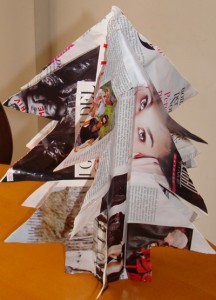 They are made following the same process, but one is in original format with the typical glossy magazine look that I like so much and the other has been painted with green acrylic paint and decorated with glitter glue.
To make a Christmas tree decoration out of magazine pages you need old magazines (glossy mags for best results), a foil or oven paper tube, scissors, glue, paint and glitter.
Fold the magazine pages by making the smaller extremities meet and draw the basic shape of half a Christmas tree. Make sure the straight line is on the folded side so when you open the page you have the full shape of the tree. You need to repeat this 8 times.
Open the folded trees and brush them with glue on one side
Place the roll in the middle of one page and attach carefully along the spine; then attach another page to the roll and to the other page; repeat the same process twice. At the end you must have the roll with four magazine pages attached to it and to each other.
The remaining 4 pages need to be glued in the middle to obtain 4 half trees.
Fold each half tree along the straight line making a 1 cm lip.
Brush some glue along the lip and attach it to the tree between the other "leaves"
Leave to dry and decorate.
 Happily shared with Kids Get Crafty .