Home » Crafts, Halloween
Halloween crafts: how to turn a detergent container into a pumpkin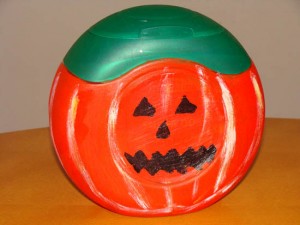 Pumpkins are not readily available where we are so this year we turned a washing powder container into our jack' o' lantern.  The process was fun and the skill necessary is definitely less much less than what is required to carve a pumpkin.  All you need is a round container, paint and brushes.
First wash the container thoroughly to eliminate the smell of the detergent so you can even fill it with sweets or scary gadgets; then paint it orange. The container I used had a green top so I left it as it was, but you can adapt it to your needs following your imagination.
When the orange paint was dry we added the details with black paint: eyes, nose, and scary mouth. With a touch of lighter paint we also attempted to give the container the pumpkin lines and that's what we ended up with.
Happily shared with Kids Get Crafty.