Home » learn through play
Times tables game old style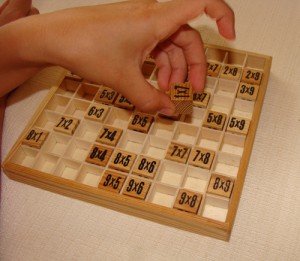 During the school year I found many games to help my son learning the times tables. We have used
songs,
online games and a variety of
iPhone apps
that make learning easy and most importantly fun. Tomorrow is back to school day so in the past few weeks we have been doing a little revision which was much needed after such long break. As many of you know we live in Italy where the school holidays are extended over three long months…phew that's a longtime! It's not as crazy as it sounds, in fact the school holidays are concentrated in one big chunk because of the warm climate, but there is no half term interruption and Easter and Christmas holidays are also shorter. With that aside three months are long enough to semi forget a lot of what was learnt during the school year and for as much as I believe in resting and enjoying the summer I am also careful that my son returns to school ready to learn new things instead of having to go over the old stuff all over again.
During the summer he has read many books both in English and in Italian, and in the past few weeks I have encouraged basic revision especially for maths and the infamous times tables. Instead of using the digital games he already knows we used an old wooden game that consists of a board containing movable cubes with the tables 1 to 9. Each cube has one multiplication and its result on different faces and you can just be creative on the way you play. We played by taking all the cubes out of the board only to insert them again in the correct order according to the result. We also played a game scoring points against the clock in which I would draw a number and the other player (or players) would have to find as many tables options for that number like for example 16 is correct for 4×4, 2×8 and 8×2.
This game is appreciated a lot especially because it requires interaction with another person, usually a parent or an older sibling instead of screen interaction.