Home » Christmas, Crafts, Holidays
Monday crafts: hanging Christmas decoration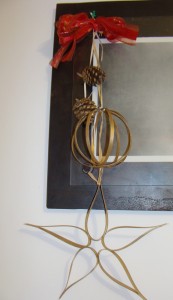 Our Monday craft this week is a hanging Christmas decoration made of very thin strips of bolster wood consisting of a star, a ball and two pinecones tied in a bow. I wanted something simple to decorate the front door for which I normally just put some branches together, but this year I went down a different route. I was out shopping and I was attracted by some really simple red stars made of what looked like wood shavings so I visited my local arts and crafts shop where I bought the thinnest strips of bolster wood I could find to construct the stars. I bought two different sizes and in the end I made a star – a little larger than I intended – and a lovely ball frame. The size of the star was determined by the breaking point of the bolster wood; it can only bend to a certain point before it snaps.
Materials: very thin bolster wood strips, strong glue, pegs, scissors, gold paint, two pinecones, thin ribbon, and red bow.
To make the star I cut the bolster wood in 5 equal pieces and I bent them to form 5 pointed loops; I then glued together the extremities of each loop with strong glue. I used pegs to maintain the pressure until dry. Once each individual piece was ready I joined the curved sides together with glue to make the shape of a star. In the end we painted it with gold acrylic.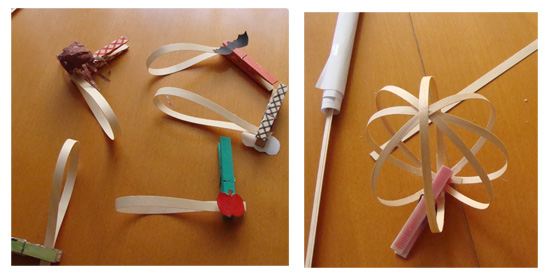 The ball is made with strips of bolster wood that are half the width of those used for the stars. In this case I made 4 round loops which I joined at the poles. I used pegs to hold them in place like for the stars. I finished the frame with gold paint.
Fine cream ribbons of different length make the pieces hang at different heights.
The pinecones are simply painted with the remnant of gold paint. The whole composition is held together by wired red ribbon.
Happily shared with Kids Get Crafty.