Home » Christmas, Crafts
Monday crafts: how to make a Christmas message holder with a cereal bar box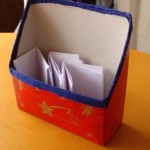 Our craft this week is a file container to store the messages we write for every day in December. You can read the post about how we are using last year's advent calendar this Christmas here. We thought it would be nice to keep the notes and then read them again on Christmas Day; and what could be more appropriate than an empty cereal bar box for the job?
To make the message holder first we cut the shape of an office file holder out of our cereal bar box. Then we painted the outside with two coats of red acrylic paint; once the paint was dry we painted stars and ribbons with gold paint. We finished the edges with strips of crease paper, which glued on.

Happily shared with the Play Academy and Kids Get Crafty.