Home » Christmas, Crafts
Monday Crafts: Homemade Nativity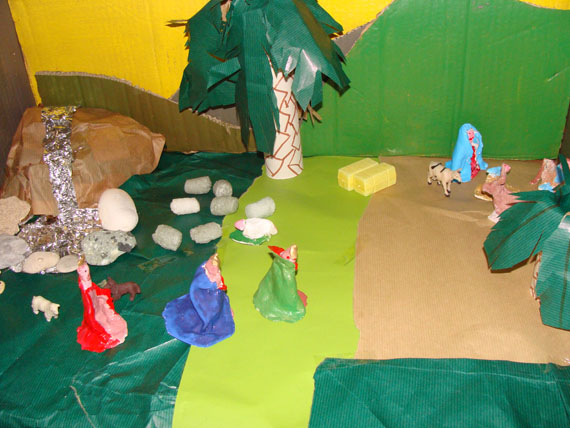 At the weekend we have been busy making our Nativity with recycled items and air dry clay. It is a little early, but we'll be away for a week at the beginning of December so I thought it would be a good idea to get stuck in with our Christmas crafts.
We used air dry clay to make most of the characters and recycled items to build the surroundings. Our set is a large cardboard box turned upside down and cut open.

We used the left over cardboard to make some backdrops representing rolling hills, sand dunes and rocks.
We made a couple of palm trees with the rolls from paper towels for the trunk and some green scrap paper to make the palm leaves.

On the left hand corner of the box we built a rock using rolled newspaper, after securing with tape we covered it with brown paper. A strip of foil flows down like a stream and ends into a small lake at the bottom surrounded by stones.
The comet is made with the Popsicle sticks left over from all those ice creams we had last summer and a piece of cardboard attached together with glue and painted silver.
We will probably add a few details between now and Christmas so come back and see the progress of our recycled Nativity.
Happily shared with the Play Academy and Kids Get Crafty.