Home » iphone apps, learn through play
Learn Through Play: Download quality kids' apps for free to celebrate Once Upon an App one year anniversary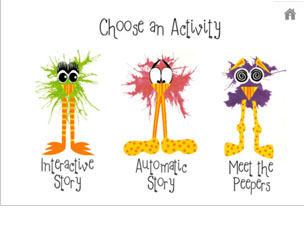 Once Upon an App are the developers behind some fantastic kids apps adapted from classic tales such as Animal Tales and The Tales of Peter Rabbit. To celebrate their one year anniversary they launched a new website and are offering free downloads on iTunes. Don't miss out on the opportunity to download children classics stories and educational apps such as Learning Colors with Fruit based on Elizabeth Gordon's Mother Earth's Children's Book, Humpty Dumpty nursery rhyme and their latest educational app Peepers: I Say…You Say.

 Animal Tales and The Tales of Peter Rabbit are classic stories with an interactive twist. You can opt to listen only or listen and play; the latter option shows a hidden image on the black and white drawings and as you move the icon over the image the screen turns to colour.

Peepers: I Say…You Say is a wonderful educational app to understand the concept of opposite words with the colourful and friendly Peepers. Choose from three options: Meet the Peepers, Interactive Play and Listen. The Peepers are so much fun that your kid will want to play this game over and over.