Home » Crafts
Monday Crafts: Father's Day pencil holder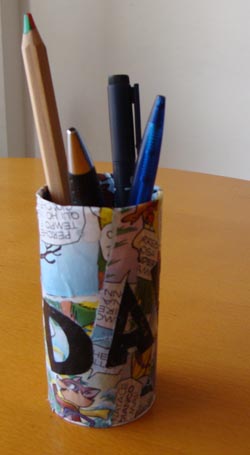 This weekend I set off with the idea of making flowers with colourful wire, but after the first one I realised it wasn't exactly the craft for a 6 year old as the wire can be quite dangerous and difficult to handle with the risk of unpleasant cuts and scratches so we switched to a much easier craft. With Father's Day coming up next month we thought it would be appropriate to start developing a few ideas for fun and easy projects.  We made a pop art pencil holder from a kitchen roll and old comics.

To complete this project you need the tube from a kitchen roll or oven paper (the tougher the cardboard the better), a plastic lead to close one of the extremities, vinyl glue, a brush, comics ripped in irregular shapes and a black page from a magazine.

Cut the roll to the height you need to hold pens and pencils comfortably, then close one extremity with the plastic lead. If you don't have a plastic lead, you can make a base with cardboard and glue one side of the roll to it.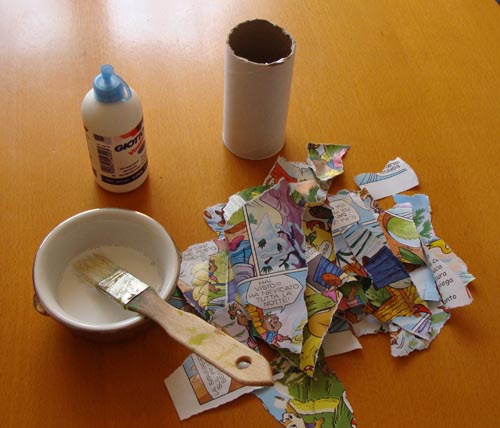 Apply the glue with a brush to the roll and attach the pieces of comics creating layers. When the roll is fully covered cut the letters to spell the word "dad" from the black magazine page and glue them on. Leave  the holder to dry before use.