Home » Learning, Reading
Small steps in the right direction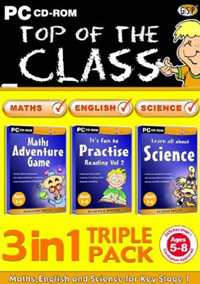 There is no substitute for peer motivation. I have been trying to no avail to get my son to speak English and I know he could if he wanted to because he understands everything perfectly, but he insisted in answering in Italian until a few weeks ago. In the past he only made exceptions if the alternative was no conversation during visits to grandparents and friends in the UK.  I have recently discovered that there is another girl in his class who has mixed language parents, Dad is English and Mum is Italian, and her influence has been great on Luca who has started to ask for things in English. As it turned out his classmate's parents have the same system in place whereby they speak English at home and Italian outside the home environment, but the girl, as girls usually are, has been more responsive to the second language and she already speaks both languages well according to the interlocutor.

Casually over dinner my competitive son mentioned that G. could read certain English words such as butterfly, flower and a few others. I must admit I was a tiny bit jealous about it, but I soon got over it and was pleased to read between the lines he also wanted to learn.

Last year we started learning a few words through play but then I stopped because I could see he was getting confused as he was just starting to learn the basics of reading and writing in Italian and somehow the concept of opposite sounds associated with the same letters was a tiny bit difficult to explain and I felt he wasn't ready for it.

He started primary school last month and his teachers are running with the curriculum; in fact they have just finished all the vowels and their combinations in pairs, so the other day he came home and said they wrote an English word, or at least he thought so. Since I know they have not started the English coursework yet I wasn't surprised to hear he thought he spelled the word eye as it just so happens that the two vowels A and I "ai" combined in Italian read like eye.

At that point I knew time has come for parallel learning. Last year I bought a CD-ROM to help us with reading and writing in English, the material inside is structured to learn through play so there are a lot of spelling games with fun characters as well as number exercises and a lot of fun activities for 5-8 year olds. The CD-ROM supports National Curriculum for Key Stage 1 and is set up to complement schools' learning at home. The CD, Top of the Class by Avanquest Software, is structured in three parts:
It's fun to practise reading: activities include linking between pictures and words, writing listening and spelling with the educational goal of improving reading skills.

Maths Adventure Games: games and activities encourage problem solving and basic counting skills

Learn all about Science: games are based on basic scientific concepts and are aimed to provide basic science notions in line with the national curriculum.
It sounds like a lot, but it is all very fun based and I can tell you my son loves the maths and science games, but it is now time to pick up the spelling ones again.
As an addition to this fabulous material, we have talked about how it would be nice to have a separate writing book that we use at home to write the corresponding English word for every Italian one he learns to spell. We have gone as far as getting the book ready, but I have not pushed him to write on it yet as he is still settling in the new school and adjusting to the new learning environment so when he comes home he needs to release some of that energy kept at bay in the classroom. I also feel his approach towards the second language has dramatically improved recently without any pressure from my part so I would like it to continue this way and he'll tell me when he's ready for more.