Home » Books, Gifts
Story Tots will make your kid the leading character of his/her favourite bedtime story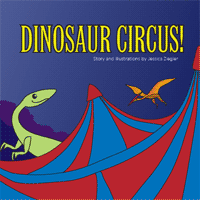 Kids are imagination driven and love nothing more than being involved in a fantastical story; imagine your little one's surprise when the central character of the next bedtime story it happens to be him/her.

At Story Tots they do just that, they create personalised stories with your little tot as the main character. Not only by name but also by looks, in fact when you order you are asked to give indications of your boy or girl's features such as hair colour and style, skin tone with the option to add glasses and freckles.

Story Tots is a mompreneur company created by Jessica Ziegler, author and Illustrator of these great stories that make a special gift for your special someone.

Choose from a variety of stories: Catch Those Monkeys, Super Suction Man and The Princess Crown. I personally like the Dinosaur Circus where the main character is the ringmaster, but then all of you faithful readers know my son is dinosaur crazy right now.