Home » Crafts, Food
Easter fun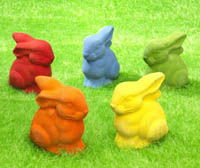 For a little extra fun this Easter visit the kids department at Selfridges on Oxford Street for Bunny Hunts, Easter Crafts and even a chance to meet the Easter Bunny.

Bunny Hunts start tomorrow and will continue daily until Monday 13th of April.  Events take place on the third floor in the kids department where you'll need to find 6 bunnies in their hiding places and write their names down in the entry form. Winners will receive an Easter treat from Lindt.

From 10am to 5pm on Friday 10th of April through to Monday 13th of April there will be exciting crafts activities like Easter card making, face painting and ceramic eggcup painting.

While you are there check out the food department for chocolate eggs and bunnies, the selection is to die for. I like the flashbunnies, milk chocolate covered in velvety flashy colours.